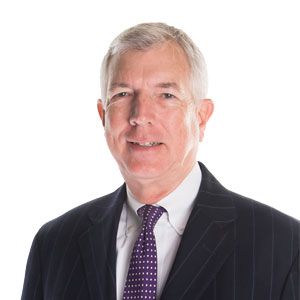 Chris Schupp
CORPORATE SERVICES
Scope of Experience
Since 1978, Schupp has represented clients in hundreds of successful sale and lease transactions and has enjoyed a proven track record of solving corporate real estate and facility problems for numerous companies. Based on his tremendous experience, Schupp brings an analytical, problem-solving approach and perspective to every assignment and project.
Background & Experience
Schupp is a native of Kansas City, MO and began his career in industrial real estate sales and leasing in 1978. In 1981, Schupp relocated to Dallas, Texas joining Fults & Associates and became the youngest partner in the company's history. In February 2002, Schupp teamed with NAI Robert Lynn as president of the company's newly formed office division. Today, Schupp is Executive Managing Director of Corporate Services working with national companies on real estate needs from New York to California.
Spanning forty years of real estate brokerage experience, Schupp's career has included representing landlords throughout the Dallas/Ft. Worth area. Projects have included Park Central, the 187 acre, 4 million square foot, mixed-use development developed by Equitable; The Crescent, the renowned 1.2 million square foot development developed by Rosewood Property Company; and One Main Place, a 900,000 square foot office tower owned by the RREEF fund.
Schupp has also represented numerous national companies including Home Savings of America, at the time the largest U.S. savings institution. Included in the relationship with H.S.A. was the development of a national marketing program and computer-aided reporting system for their real estate portfolio. In addition, he has added to his hands-on real estate brokerage experience with the design and implementation of integrated workplace management systems IWMS) systems for a variety of national companies.
Education
B.A., Westminster College, Fulton, Missouri
CCIM 101, 102, 103 and 104
Professional Affiliations
Licensed Texas Real Estate Broker
Dallas Council on World Affairs
Named "Heavy Hitter", Office Brokerage, 2006 by the Dallas Business Journal
Nominated for Commercial Broker of the Year 2005 by the Irving Chamber of Commerce, Irving, Texas
Significant Transactions
Pilot Air Freight, LLC
Carbel, LLC
Retalix USA
Shiels Medical Properties
Greater Irving-Las Colinas Chamber of Commerce
Future Computing
Union Standard Insurance
The T-System
NCNB
Carrington Laboratories
The Better Business Bureau of Greater Dallas
Verbatim Corp
Genesis Physicians Group
Dallas
4851 LBJ Freeway, 10th Floor
Dallas, TX 75244
United States
Tel (214) 256-7100
Fax (214) 256-7101
Fort Worth
201 S. Adams Street
Fort Worth, TX 76104
United States
Tel (817) 885-8333
Fax (817) 872-3888
Houston 
5757 Woodway Drive, Suite 276
Houston, TX 77057
United States
Tel (281)536-9972