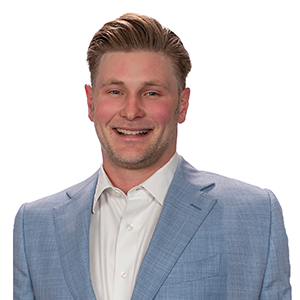 Hunter Hayes
RETAIL
Scope of Experience
Hunter Hayes is a Vice President in NAI Robert Lynn's Retail Division, focusing on project leasing for properties northeast of Fort Worth. With a vast knowledge of his sub-market, Hunter provides his clients with great market insight, giving them a competitive advantage and confidence. With a professional attitude, work ethic, drive, and integrity, Hunter effectively specializes in 3rd party landlord representation. He also devotes time to developing new prospects, while maintaining strong client relationships. 
Background & Experience
Hunter was born in Merritt Island, Florida. At a young age, he relocated to DFW and later graduated from Stephen F. Austin State University, where he earned  a bachelor's degree in Hospitality Administration, with a focus on Business Administration. His time there taught him the importance of prioritizing Customer Service and the value of putting the customer first.
As President and Treasurer of his Fraternity, he gained extensive knowledge and skills on how to network, communicate, listen, delegate, and effectively execute and follow through on all tasks. 
Professional Affiliations
International Council of Shopping Centers (ICSC)
North Texas Commercial Association of Realtors (NTCAR)
Masters in Commercial Property (MICP)
Action Group MVP of the Year 2017 (NAI Robert Lynn)
Most Cold Calls 2017 (NAI Robert Lynn) 
Significant Transactions
Merakey, Fort Worth, TX 17,500 SF  
USMD, Fort Worth 14,584 SF
Cutting Edge Fencing, 7,334 SF
(4) Property Portfolio Sale, $25M
Dallas
4851 LBJ Freeway, 10th Floor
Dallas, TX 75244
United States
Tel (214) 256-7100
Fax (214) 256-7101
Fort Worth
201 S. Adams Street
Fort Worth, TX 76104
United States
Tel (817) 885-8333
Fax (817) 872-3888
Houston 
5757 Woodway Drive, Suite 276
Houston, TX 77057
United States
Tel (281)536-9972