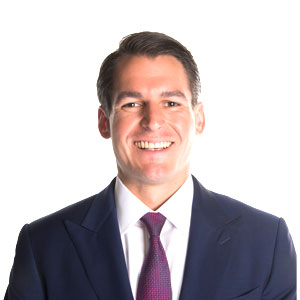 Jayson Montoya
OFFICE
Scope of Experience
Jayson Montoya serves as the Executive Vice President of Downtown Dallas for NAI Robert Lynn. In this role, Jayson personally tracks every office tenant, owner, available space and real estate transaction that takes place in Downtown Dallas and the immediate surrounding areas. Having completed over 225 transactions since 2011, Jayson has a keen focus on being the Downtown Dallas Office Market Expert, and is able to provide his clients with the most accurate market intelligence on the area, resulting in maximum occupancy cost savings.
Jayson and his team have experience in the areas of site-selection, relocation, lease negotiation and renewal renegotiation, office space expansion and consolidation, lease buy-outs, and the acquisition and disposition of office product.
Background & Experience
Jayson grew up in Dallas and attended Highland Park High School. He graduated from the University of Kansas with degrees in Economics and Sociology before returning to Dallas and starting his career at NAI Robert Lynn. He was a member of the Phi Gamma Delta fraternity.
Education
University of Kansas, Bachelor's, Economics and Sociology, 2010
Professional Affiliations
D CEO Magazine "Power Broker" (2020)
Significant Transactions
Smith Clinesmith/The Clinesmith Firm – Office Relocation
Beauty BioScience – Office Space Expansion
Prosperity Bank – Office Lease Renewal
Johnson Downie – Office Relocation
IDI Gazeley – Office Lease Renewal
A Mediocre Corporation – Sublease Disposition
JQ Engineering – Corporate HQ Relocation/Office Building Acquisition
Farrow-Gillespie & Heath, LLP – Office Space Expansion
717 Harwood - Office Building Disposition
TBX Benefits – Office Relocation/Expansion
Hedrick Kring PLLC – Office
5303 Bryan St. - Building/Land Disposition
3816 San Jacinto - Building/Land Disposition
Morrison Dilworth + Walls – Office Lease Renewal
Mahomes Bolden PC – Office Space Expansion
Halftime Institute – Office Relocation
Zulahoo, Inc. – Office Relocation/Expansion
IBC Fund – Office Space Expansion
2105 Commerce Street - Office Building Disposition
Click Engineering – Office Lease Restructure
Pegasus Community Credit Union – Office Relocation/ Renewal
RTG Frisco MOB, LLC - Office Building Acquisition
Harvey Mineral Partners - Office Building Acquisition
IPS - Office Relocation
Dallas
4851 LBJ Freeway, 10th Floor
Dallas, TX 75244
United States
Tel (214) 256-7100
Fax (214) 256-7101
Fort Worth
201 S. Adams Street
Fort Worth, TX 76104
United States
Tel (817) 885-8333
Fax (817) 872-3888
Houston 
5757 Woodway Drive, Suite 276
Houston, TX 77057
United States
Tel (281)536-9972