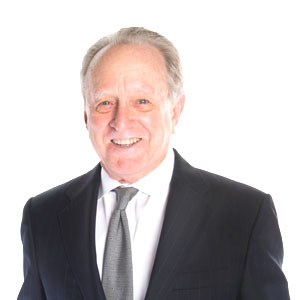 Mark Robertson
CAPITAL MARKETS
Scope of Experience
Mark Robertson is Senior Vice President of the NAI Robert Lynn Investment Services Group. Based in Dallas, Mark is charged with institutional real estate accounts for the Group, in particular bringing debt and equity to clients, and sales of institutional quality properties. Mark is particularly experienced in servicing the U.S. institutional and international real estate communities, as well the advising of major corporate clients in their strategic use decisions, the organization of corporate structures for real estate holding companies, and consulting in connection with registration of private placements and securitizations. NAI RL Capital Markets works with institutions and private investors seeking to acquire, dispose of or finance/refinance their real estate holdings and portfolio strategy. NAI has completed more than $10B in investment sales annually in properties ranging from portfolios of lender-owned real estate and non-performing loans, to major institutional office properties, single-tenant net leases, corporate headquarters, hotels, industrial parks, and apartment & senior living properties.
Background & Experience
Mark was one of the founding members of Cushman & Wakefield's Financial Services Group in the 1980's. In the early 1990's, he co-founded Cushman & Wakefield de Mexico, was the founding Managing Director and established a major presence for the firm with corporate America and international real estate finance in Mexico City, as well as founding three additional offices in the country. Frequently returning to the US, he soon joined, as a founding member, the Insignia/ESG Capital Advisors Group to continue his US institutional real estate career, and as well, he co-founded Insignia de Mexico.
Following the 9/11 tragedy, Robertson completed at Insignia a major portfolio disposition for Mack-Cali REIT and then founded his own investment and development firm, PRG Realty Group. Many properties and over a decade later, Mark has re-joined his previous Insignia family at NAI Global to resume serving institutional and corporate America globally. He has concluded many of the largest real estate transactions in the region during his career and has been a leading figure in advising financial institutions, banks, and lender-owned assets and portfolios. At NAI RL Capital Markets, Robertson continues to be instrumental in creating capital for international portfolios and major new developments in the US.
Robertson is a Texas native and graduate of Baylor University and its Jaworski School of Law. He has lived in Dallas and worked in the national real estate arena there throughout his real estate career.
Education
In addition to numerous seminars in real estate and law, both as attendee and speaker, his educational foundation was at Baylor University. Finance and marketing were focuses in the business school, while the law degree preferences were toward real estate, trusts and estates, and commercial transactions.
Professional Affiliations
Mark's numerous affiliations and memberships have included Membership in the Urban Land Institute, International Affiliate SIOR, the Real Estate Council, and the State Bar of Texas. He has also served on the boards of Holy Trinity Catholic School, Greenway Parks HOA and memberships in charitable, non-profit and other professional organizations.
Significant Transactions
Occidental Tower, Dallas, TX
Allianz Financial Center, Dallas, TX
Cigna Tower, Irving TX
Four Seasons Hotel, Mexico City
Summerset Assisted Living, Rancho Cordova CA
Mack-Cali Dallas Portfolio
Main Tower, Dallas, TX
Prevarian AL/MC projects, JAX Beach & Naples
Western Bank Tower, Albuquerque
Johnson & Johnson Industrial, Tijuana
Mobil Exploration Tower, Dallas, TX
Providence Towers, Dallas, TX
Fountain Place, Dallas, TX
Trinity 161 Industrial development
MacArthur Plaza, Irving TX
Sheraton Hotel Portfolio, Mexico
Cross Creek Apartments, Dallas
Stoneleigh & Melrose Hotels, Dallas, TX
Republic Towers, Dallas, TX
Grupo Accion multi-office financing, Mexico City
One Telecom (AT&T Center), Richardson TX
Forest Green Offices
Northrup Grumman, Gilbert, AZ
Strategic Clients
Allstate Insurance
Bank of America
Behringer Harvard Fund
Chubb Insurance
Equitable/Lend Lease Real Estate
Exxon Real Estate Trust
Frito-Lay Corporation
GE Capital Real Estate
Heller Real Estate
Lehman Real Estate
ICA Hotel Group
Insignia Development Group
JPMorgan Chase
John Hancock Life
Mack-Cali REIT
Mobil Oil
Mony Real Estate
Morgan Stanley
MetLIfe Real Estate
New York Life
Prevarian Senior Living
Prudential Real Estate
Paribas Bank Paris
SOHO Realty Partners
Societe General US
Strategic Hotel Corporation
Summerset Senior Living
Dallas
4851 LBJ Freeway, 10th Floor
Dallas, TX 75244
United States
Tel (214) 256-7100
Fax (214) 256-7101
Fort Worth
201 S. Adams Street
Fort Worth, TX 76104
United States
Tel (817) 885-8333
Fax (817) 872-3888
Houston 
5757 Woodway Drive, Suite 276
Houston, TX 77057
United States
Tel (281)536-9972