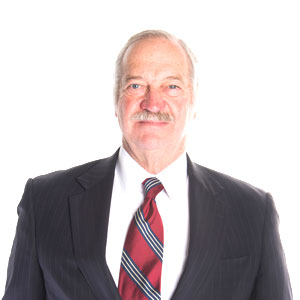 Sam Hocker, SIOR, CCIM
OFFICE
Scope of Experience
Sam Hocker is the Executive Vice President of the Office Division at NAI Robert Lynn. Mr. Hocker has extraordinary strength in tenant representation, emphasizing strategic lease negotiation and client-centric transaction structuring. Sam's professional experience includes successful, established relationships with major tenants and landlords throughout the Dallas/Fort Worth area. He is known for his diligence in the pursuit of his clients' goals. He maintains the designations of CCIM and SIOR.
Background & Experience
Sam has been in Dallas Commercial Real Estate since 1971. He has negotiated a high volume of leases in excess of 100,000 square feet while being responsible for several well-known corporate relocations into the Dallas area, such as the 240,000 square-foot relocation of Blockbuster Video, Inc., which was awarded in 1996 the "Best Deal of the Year" by the Dallas Business Journal. Again in 2005, Sam was awarded the "Best Deal of the Year in Developed Real Estate" for the 750,000 square foot relocation of First American Corporation. Real Estate Sam has transactions participated in over his career are in excess of $2.5 billion.
Education
Trinity University
Bachelor of Science Degree in Business Administration
Professional Affiliations
North Texas Commercial Association of Realtors (NTCAR)
Certified Commercial Investment Member (CCIM)
Society of Industrial and Office Realtors (SIOR)
Significant Transactions
Relocations/Consolidations:
First American Corporation – 750,000 sf
Blockbuster Video – 240,000 sf
Atmos Energy – 150,000 sf
Caltex Petroleum – 377,000 sf
Pacific Enterprises Oil Company – 90,000 sf
Energy Companies:
Mobil Oil – 150,000 sf
Southern Union Gas – 80,000 sf
Wiser Oil – 20,000 sf
Sabine Corporation – 80,000 sf
Petrohawk Energy – 15,000 sf
Brigham Oil & Gas – 20,000 sf
Agency Leasing:
2001 Bryan Tower – 1.1 million sf
1200 Main – 420,000 sf
Renaissance Tower – 1.6 million sf
1700 Pacific – 1.2 million sf
Law Firms:
Locke Purnell Rain Harrell – 220,000 sf
Cowles & Thompson – 80,000 sf
Gwinn & Roby – 40,000 sf
Diamond McCarthy - 25,000 sf
Hopkins & Sutter – 20,000 sf
Fisher & Phillips – 15,000 sf
Telecommunications:
Verizon Wireless – 90,000 sf
Verizon Wireless NNOC – 25 ac. land purchase
Qwest Communications – Cyber Site - 140,000 sf
Qwest Communications – Data Center – 30,000 sf
Qwest Communications – 20,000 sf
Financial/Consulting:
Principal Financial Securities – 75,000 sf
The Wyatt Company – 60,000 sf
Citicorp - 25,000 sf
NBS Group-75,000
Insurance: Chubb & Sons – 60,000 sf
Healthcare:
Texas Health Resources – various leases and purchases
Children's Medical of Dallas – 10 ac. land purchase
National Pathology Labs – 30,000 sf
Major Subleasing Assignment:
Koch Industries – 130,000 sf
Expert Witness:
Principal Mutual v. MCorp - Testimony for Principal on damages resulting from MCorp's default on a 1.2 million sf Master lease
Building Sales:
411 North Akard – 300,000 sf
Fidelity Union Complex – 750,000 sf
Waterview Tower – 250,000 sf
Vickery Hill Tower – 250,000 sf
JQ Engineering--30,000 (1031 Exchange)
Dallas
4851 LBJ Freeway, 10th Floor
Dallas, TX 75244
United States
Tel (214) 256-7100
Fax (214) 256-7101
Fort Worth
201 S. Adams Street
Fort Worth, TX 76104
United States
Tel (817) 885-8333
Fax (817) 872-3888
Houston 
5757 Woodway Drive, Suite 276
Houston, TX 77057
United States
Tel (281)536-9972