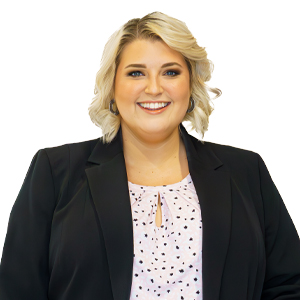 Sarah Rogers
OPERATIONS
Scope of Experience
Sarah Rogers brings ten years of experience in property management, most recently with Hilton Hotels, managing seven properties in the Baton Rouge and New Orleans, Louisiana areas. Her dedication, managerial proficiencies, and customer relations experience make her an asset to working with brokers, agents and clients in the commercial real estate industry.
Background & Experience
Sarah grew up in Aledo, Texas, and attended Aledo High School where she played in the girls' basketball State Championship Tournament. After spending nine years in Louisiana, Sarah relocated to the Fort Worth historic district with her miniature dachshunds, Gracie and Roux.
When not at work, Sarah enjoys antiquing, road trips, and LSU football...Geaux Tigers! She is also passionate about mid-century modern architecture and is an avid collector of mid-century pieces for her home.
Education
Sarah graduated from Louisiana State University in Baton Rouge and was a member of Phi Beta Lambda. She graduated with a degree in Interdisciplinary Studies with minors in Business, Human Resources & Leadership Development, and History.
Significant Transactions
Sarah accomplished opening a new-build Hilton property in New Orleans, Louisiana in the midst of Hurricane Ida, a Category 4 Atlantic hurricane.
Dallas
4851 LBJ Freeway, 10th Floor
Dallas, TX 75244
United States
Tel (214) 256-7100
Fax (214) 256-7101
Fort Worth
201 S. Adams Street
Fort Worth, TX 76104
United States
Tel (817) 885-8333
Fax (817) 872-3888
Houston 
5757 Woodway Drive, Suite 276
Houston, TX 77057
United States
Tel (281)536-9972