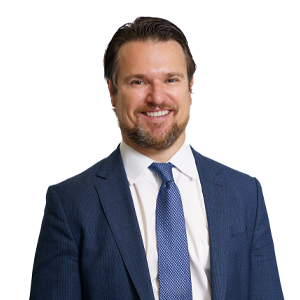 Todd Hubbard, SIOR
INDUSTRIAL
Scope of Experience
Todd Hubbard is Managing Principal for Dallas/Fort Worth and President of the Fort Worth office of NAI Robert Lynn. He is responsible for assisting in company strategy decisions in addition to the management and growth of the Fort Worth office.
NAI Robert Lynn's Fort Worth office is a full-service commercial real estate firm including office, industrial, retail, land, and property management. The scope of Todd's transactions includes industrial, office, and land transactions ranging from leases, dispositions, acquisitions, build-to-suits, design builds, subleases, and sale-leasebacks, with his primary specialization being industrial.
Background & Experience
Todd began his career in December 2003 as Market Director with NAI Robert Lynn after working as an accountant for a large fiber optics manufacturing company. Todd was promoted to Vice President in 2005 and Executive Vice President, Director of Brokerage Services in 2007. In 2011, NAI Global selected NAI Robert Lynn to become its Fort Worth partner, and Todd was promoted to President of the office and became a Principal. Under Todd's leadership, the Fort Worth office has grown by over 1400 percent.
In 2021, Todd was promoted to Managing Principal for both Dallas and Fort Worth. This extended role formalized Todd's involvement in the company's strategic decisions with George Dutter and Mark Miller.
Todd's hard work, honesty, and dedication to using his market knowledge to help his clients achieve the best results for their real estate needs have allowed him to become one of the top brokers in the country. He has closed over 1,120 transactions with a value over $1.25 billion and over 72 million square feet.
Todd and his wife, Anita, have a daughter and a son. They reside in Southlake.
Education
Texas Tech University, MBA 2001 Howard Payne University, BBA 2000
Professional Affiliations
Society of Industrial & Office Realtors (SIOR), NTCAR, National Association of Realtors
Dallas Business Journal's Heavy Hitters List as a Top Industrial Tenant Rep Broker - Multiple Years
NAI Global Worldwide - Top Five Overall Individual Producer - 2020, 2022
NAI Global Worldwide - Top Ten Overall Individual Producer - 2014, 2017, 2020, 2021, 2022
NAI Global Worldwide - Top Three Team – 2020, 2021, 2022
NAI Global Worldwide - Top Five Team - 2014, 2017, 2020, 2021, 2022
NAI Robert Lynn's Overall Top Producer - 2014, 2017, 2020, 2022
NAI Global Elite
Costar Power Broker -Multiple Years
D CEO Power Broker - Multiple Years
Fort Worth, Inc. Top Commercial Broker – Multiple Years
Represented Clients
Landlords: EastGroup Properties, Brookfield Properties, Cantex Capital Partners, Ares Management, Link Logistics, Hillwood, Falcon Development, Forefront Commercial, ML Realty Partners, Empire Texas Equities, Prattco Creekway, Tradelane Properties
Tenants: Premium Waters, BRP, All American Glass, Seconds & Surplus, RTP Company, Motivating Graphics, Diamond Mattress, Professional Flooring Supply, AMI Metals, Diamond Mattress, Vetoquinol, Classic Foods
Dallas
4851 LBJ Freeway, 10th Floor
Dallas, TX 75244
United States
Tel (214) 256-7100
Fax (214) 256-7101
Fort Worth
201 S. Adams Street
Fort Worth, TX 76104
United States
Tel (817) 885-8333
Fax (817) 872-3888
Houston 
5757 Woodway Drive, Suite 276
Houston, TX 77057
United States
Tel (281)536-9972