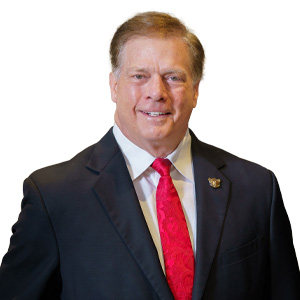 Van Power, SIOR
SITE SELECTION/CALL CENTERS
Scope of Experience
Van Power, SIOR, is President, Managing Partner of NAI Robert Lynn's Site Selection/Call Center Division and leader of NAI Global's Site Selection Division Worldwide. Recently, he was named to NAI Global's Corporate Services Council Elite Group of approximately 30 brokers throughout North America and is co-head of the South Region. He specializes in representing corporate tenants in site selection, labor analytics, acquisition and disposition of corporate call centers/service centers, industrial and office properties worldwide. During his career, Power and his team have completed site selection assignments on over 12,000,000 square feet of commercial real estate requirements.
Van combines comprehensive office, labor, incentive and build-to-suit market knowledge with integrity, resourcefulness, tenacity, and 35 years of negotiation experience to represent the best interests of his corporate and business clients. He's been honored as one of The Dallas Business Journal's Commercial Real Estate "HEAVY HITTERS" every year from 1991-2004. NAI Global named Van Top Performer to the NAI Global Elite level, a group comprised of the organization's top performers and top producers. He has also qualified as Silver Elite in 2010 and 2011. He's been designated a "Power Broker" in March of 2011, February 2012, February 2015, March 2017 and March 2018. In 2019, he was named a Top Producer for NAI Robert Lynn. His transaction experience includes representation of tenants, buyers and sellers (both large and small) in assignments ranging from negotiating headquarters, office, industrial, office-flex, call centers and build-to-suit transactions. He also has the unique expertise, experience, and relationships to find and evaluate labor, demographic evaluation, site selection and negotiation of municipal, county, state and/or provincial incentives.
Background & Experience
Van was Co-Founder and President of Arledge/Power Real Estate Group, where he represented corporate clients throughout the United States, Canada, Mexico, the Caribbean, Latin America, the United Kingdom and South Africa. Arledge/Power was recognized by the Dallas Business Journal as winner of its "2001 PACESETTERS AWARD," given to the #1 Fastest Growing Company in the Dallas Metroplex for 2000-2001. Arledge/Power was also honored as a recipient of the 2001 "Dallas 100" Award, recognizing the fastest growing companies in Dallas.
Prior to his real estate career, Power was the International Executive Director of the National Cheerleaders Association (NCA) and accrued 14 years of executive management experience in national and international facility planning. Among his many accomplishments there, Power negotiated facilities for more than 400 local, national and international sporting events. As Executive Director, he was responsible for over 500 employees operating in 48 states and 12 countries including 350 locations worldwide.
Education
Van Power was an honor graduate, and has a B.A. in Political Science and English,from the University of Mississippi and attended law school at Ole Miss. While attending Ole Miss, Power, while a collegiate athlete, was named to the Who's Who among Students in American Colleges and Universities. In 1983, he was selected as an Outstanding Young Man in America.
Professional Affiliations
Mr. Power's honors and professional affiliations include selection to the prestigious Society of Office and Industrial Realtors (SIOR); Dallas' Real Estate Managers Forum; NTCAR Board of Directors (2005, 2006, & 2007); Member of the Delta Wildlife Association; Life Loyal Sig of Sigma Chi Alumni Association; University of Mississippi Alumni Association; the Dallas Safari Club; Safari Club International; The Dallas Ecological Society; recipient of the Golden Eagle Award from the National Rifle Association (NRA); Territorial Marshall for the State of Oklahoma; and a Captain of Industry for the State of Mississippi. He and his wife, Barby, have a son, Colt, who attended and played lacrosse for the "fighting Irish" of Notre Dame and is a Partner of NAI Robert Lynn's Fort Worth Office Division. They are also members of St. Michael and All Angels Episcopal Church.
Significant Transactions
ADC Telecommunications
ADP
Aegis Global
Allegiance Telecom
Alliance One
Alorica
AmeriCredit Financial Services
Capital One Financial Corp.
Coca Cola
Corp of Engineers
Empereon
Frito Lay
GC Services
GM Financial
General Services Administration (GSA)
GSI Commerce
iPacesetters
McKinsey & Co.
National Semiconductor Corporation
Nordia
Pepsi Cola
Siemens-Rolm
Sprint
Startek
Stream
Stream Energy
Sutherland Global Services
Teleperformance
Xerox
Dallas
4851 LBJ Freeway, 10th Floor
Dallas, TX 75244
United States
Tel (214) 256-7100
Fax (214) 256-7101
Fort Worth
1200 Summit Avenue, Suite 800
Fort Worth, TX, 76102
United States
Tel (817) 885-8333
Fax (817) 872-3888